Panama Memorial

This Memorial Page is Dedicated to those Veterans
Who Gave Their Lives for Their Country
US Navy SEALs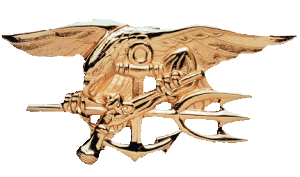 Members of SEAL Team 4, lost on 18 December 1989

USS McFaul is named after Engineman Chief Petty Office Donald McFaul. Born September 20th 1957. This is taken form a article in the USS McFaul Commissioning Day booklet.

SUMMARY OF ACTION

For extraordinary heroism in action while serving as Platoon Chief Petty Officer of SEAL Team Four GOLF Platoon at Paitilla Airfield, Republic of Panama during Operation JUST CAUSE, 19-21 December, 1989. GOLF Platoon was an element of Naval Special Warfare Task Unit PAPA, a force consisting of three SEAL Platoons, special purpose U.S. Army and Air Force Operations Aircraft and US Navy Patrol Boats. Task Unit PAPA's mission was: to deny the use of Paitilla Airfield to General Noriega and key Panamanian Defense Force (PDF) personnel; to disable General Noriega's personal jet aircraft and other selected aircraft; and to hold the airfield until relieved by conventional forces at H+5 hours. This mission was crucial to the success of Operation JUST CAUSE because it blocked a principal means of escape for General Noriega and his associates.

As nightfall settled over Panama on 19 December, ENC McFaul and his platoon launched their combat rubber craft (CRRC) from a beach near Howard AFB, rendezvoused with a waiting US Navy patrol boat off the coast, and began a clandestine transit to a loitering point 3000 yds off the southern approach to Paitilla Airfield.

At 2315 the SEAL elements began their infiltration to a beach at the southern end of the airfield. As the force clandestinely moved ashore, sounds of artillery fire began to fill the air from the battles unfolding in and around Panama City. Concerned that the force would soon be compromised, his platoon was directed to move quickly to its objective.

As the Platoon patrolled up the airfield, an intelligence report was received indicating that General Noriega was possibly flying into Paitilla in four minutes aboard an unknown aircraft. The platoon continued with all possible speed to the PDF hangar on the northwestern side of the forty-three hundred foot runway to ensure that General Noriega would not be able to use his jet aircraft located inside the hangar.

As the first squad of GOLF Platoon closed to within fifty yards of the hangar housing General Noriega's aircraft, they became engaged in a fierce fire fight with well positioned Panamanian Defense Forces in and between the hangars. As the engagement continued ENC McFaul and the second squad fought fiercely, attempting to suppress the enemy fire. The Platoon's first squad had sustained heavy casualties in the initial volley. Eight of the nine men had been wounded. ENC McFaul can to realize that the men from first squad were not responding to orders and were, in fact, all lying wounded in their exposed positions. Most were barely able to operate their weapons. He immediately responded to help the numerous wounded, since his was the closest element approximately 25 yards south of the first squad during the initial fire fight. ENC McFaul, realizing that the first squad was in extreme danger, instructed his men to continue their suppressing fire directed at the PDF hangar while he and a corpsman moved forward to rescue his stricken teammates. As he progressed toward the beaten zone of the combat, ENC McFaul encountered LTJG Casey dragging a wounded teammate from the fire fight. In the absence of effective cover fire and with disregard for his personal safety, ENC McFaul entered the kill zone with the single focus of saving his teammates' lives. Moving quickly, he located Petty Officer Moreno, who has suffered a severe head wound, and courageously began to drag him from the deadly enemy fire. As he desperately pulled Petty Office Moreno to safety, ENC McFaul was savagely raked by enemy automatic weapons fire, and on succumbing to his mortal wounds laid himself across his teammate, protecting him from enemy fire.

ENC McFaul demonstrated the highest possible level of personal sacrifice and valor. His extraordinary heroic actions, in total disregard for his personal safety, saved the life of Petty Office Moreno and inspired other heroic acts that unquestionably saved more lives. He set the highest possible standard for the leadership by example in combat. His selfless and extraordinary heroism clearly warrant the special recognition of the Navy Cross.