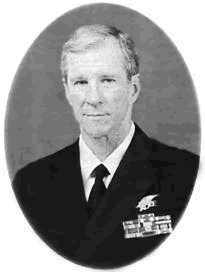 "Admiral LeMoyne exemplified the very best of the Navy SEAL community and the Navy's core values of honor, courage, and commitment. The remarkable courage and dignity with which he faced his greatest adversary was truly inspiring. We will all miss his leadership, his integrity, and warm, gentlemanly demeanor. I will miss his personal friendship which gave me so much."
RADM Thomas Richards Commander, Naval Special Warfare Command
---
As a SEAL RADM Irve Chuck LeMoyne was taught, and taught others, to face one's fears, and when you have to fight -- fight hard. In living his life, he led by example, even to the end.
Admiral LeMoyne died Jan. 4, 1997 at the San Diego Hospice after a heroic six-year battle with cancer. LeMoyne's family was by his side at the time of his death. LeMoyne, referred to as "Sir Charles" by RADM Thomas Richards, commander, Naval Special Warfare Command, was always the gentleman. "He kept his emotions in check, always letting reason prevail. He kept himself above the fray," Richards said.
The first SEAL to achieve two-star rank, LeMoyne's distinguished Naval career had many highlights, and he earned numerous commendations.
LeMoyne was among the military leaders who called for integrating all the services' special operations forces to improve communication and coordination during special missions.
He will be remembered most for establishing and commanding the Naval Special Warfare Command in 1987, and later becoming deputy commander of U.S. Special Operations Command in Tampa, Fla. As deputy, he was the second most senior officer in charge of all US Special Operations units, serving for then Commander in Chief Gen. Wayne Downing. "Chuck had a vision of what special warfare could become," said Downing, now retired. "He has set a course for naval special warfare into the 21st century."
In just a decade since establishment of the Naval Special Warfare Command, 13 Cyclone Patrol Coastal craft have been commissioned, 20 MK V Special Operations craft have been funded, an advanced SEAL delivery system is being built and the US Navy SEALs and Special Combatant Craft Crewmen form one of the most responsive, versatile and effective force packages in our military today.
When LeMoyne retired in the fall of 1996, he returned with his family to Coronado, to a place he called home and to the home of his "second" family -his fellow SEALs.
On Christmas eve, some of those SEALs gave LeMoyne and his family a gift that won't soon be forgotten. Led by CAPT Tim A. Holden, the current BUD/S class took a run up to the LeMoyne house. Instead of ringing the door bell, the SEALs belted out a traditional SEAL battle cry. Though frail and weak and barely able to walk, LeMoyne made it down the stairs to hear the men singing Christmas carols. According to his son, Chuck Jr., the admiral insisted on greeting each and every one of them.
More than 20 flag officers, including the chief of naval operations, attended the memorial service for LeMoyne in Coronado. Not surprising, the church was filled to capacity. Even a spot where one could stand was hard to find. Such was the turnout for a man who was warmly admired as a gentle "giant" and greatly respected as a man of integrity, a man of honor.
The Naval Special Warfare community extends its heartfelt sympathy to the LeMoyne family during this difficult time. RADM Chuck LeMoyne-- you will be sorely missed.